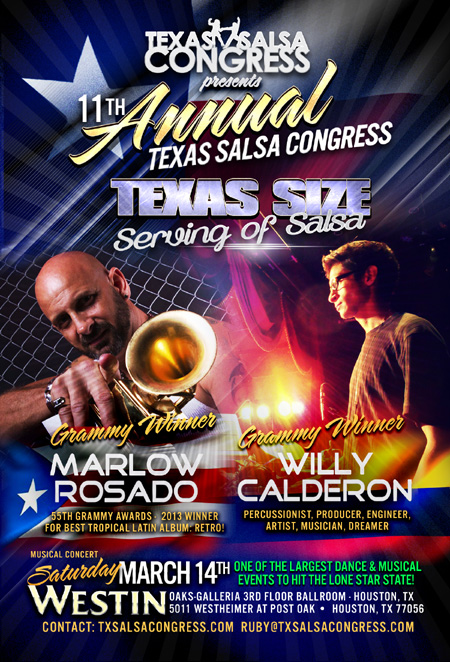 Below is a most current list of confirmed music for the TSC 2015! Check back often as we are adding more special guest!
2015 Texas Salsa Congress Music
Marlow Rosado has worked with a diverse repertoire of artists including the unforgettable Tejana signer Selena, legendary pianist Larry Harlow, Tommy Olivencia, Marc Anthony, Olga Tañón, Ricky Martin and Desmond Child. Some of his most notable works include the 5 driving rock tracks he co-wrote on Alejandra Guzman's album "lipstick", nominated for Best Rock Album of the Year by both the American and Latin Grammys, The emotionally charged Yolandita Monge production, "SENTIMIENTO BORINQUEÑO," written as a love letter to his home land, As well as the arrangements, directing, and production of the horn section on Ricky Martin's production "MAS".
Willy Calderon has performed and traveled the world with world-class Latin and Pop bands such as Grupo Niche, Sublime (w Rome), Guayacán Orquesta, Earth, Wind & Fire, Sheila E, Luis Conte (Phil Collins,) Fruko y Sus Tesos, Silvestre Dangond and most recently, Bruno Mars.
**All 2015 music listed have been confirmed; however, performer are subject to change without notice**