Originally from Houston Texas, Ruby Rivera was raised in the humble setting of Houston's Northside community. Born of Puerto Rican and Guatemalan decent, she was the first one in her family to get accepted and attend a four year university. Ruby attended and graduated from The University of Texas at Austin. Upon completion, Ruby worked for The University of Texas at Austin in both the financial and admissions office. Ruby has always had a personal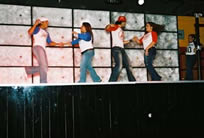 commitment to increase minority enrollment at colleges and universities. It was this particular position that landed her a job back in Houston, Texas at the end of 1999. It was then that Ruby attended her first salsa club in Houston. From the moment Ruby saw the dancers, she was inspired to learn more about salsa. Without any formal training, Ruby emerged herself in the Houston salsa community in order to increase her ability and create her own style. She was quickly noticed and asked in May, 2001 to join the first dance company in Houston, Guaguanco Dance Company. As a member of Guaguanco she learned to choreograph, perform, but most importantly she learned the art of instruction. Ruby gives free salsa lessons at LULAC event.
In 2002, Ruby took a risk and co-founded her own dance company, Rhumba Y Bongo. It was through this dance company that Ruby was able to expand her creativity and work with a diverse group of dancers. Rhumba Y Bongo Dance Company better known as R&B would eventually break the mold of traditional salsa routines by incorporating hip hop, modern, and break dancing and fuse it with salsa and mambo. R&B has been able to perform in multiple events throughout Houston and across Texas. In addition, R&B has been able to travel outside of Texas as invitees and performers in the Chicago, Puerto Rico, and New York Congresses.
As an instructor, her patience and passion for teaching has led her to be one of Houston's top instructors. Ruby has had the privilege to work at one of Houston's most popular clubs, Scott Gertner's Skybar, for more than two years along with many other local clubs. In addition, Ruby has been asked to instruct at such Houston events as LULAC Scholarship Fundraiser, and The National Hispanic Forum, along with schools in the Houston Independent School District. It is Ruby's desire to share with individuals the beautiful gift of dancing as it was once given to her.
Ruby performing with Rhumba y Bongo These experiences gave Ruby the opportunity to promote events in Houston such as competitions and local Houston Salsa showcases. Her desire to work with David Melendez, to bring the 1st Annual Texas Salsa Congress is fueled by her desire to not only bring talented dancers to Houston but showcase Texas and its fine dancers to others.
Ruby hopes to inspire others to continue to teach and learn from the art of salsa. Ruby hopes to eventually work with younger age groups to help them not only learn salsa but influence them to attend and obtain a higher education.