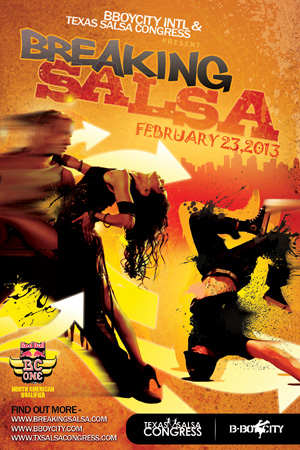 Two great organizations in the dance community have united to bring a new amazing event to Austin, Texas! BBOY City & Texas Salsa Congress are bringing a fusion between two different styles of dance, rhythm, culture to one event. BREAKING SALSA
BBOY City & Texas Salsa Congress have been major players in their own dance communities and together they will create an event that will highlight both dance cultures.
The event will consist of a one day competition showcasing the two styles of dance through different rounds. Competitors are from all over Texas, USA, and we even have some international couples.
Get ready as Breaking Salsa gets us warmed up for the Texas Salsa Congress & BBOY City 2013!
More Info: www.breakingsalsa.com