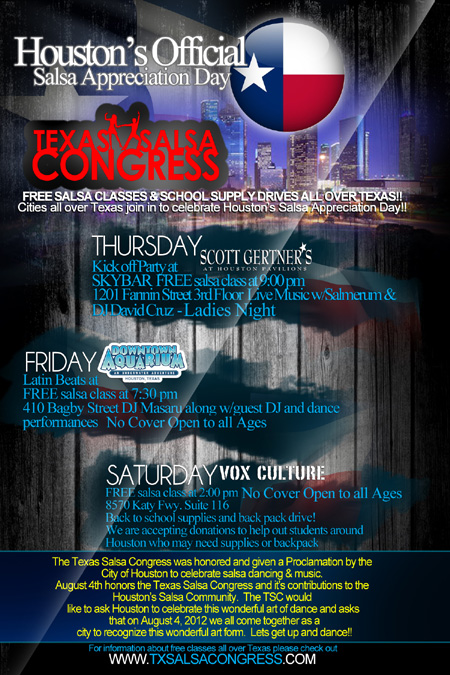 Are you ready for some SALSA? No folks, I'm not talking about your tomato, cilantro and jalapeno mix, I'm talking about the fire, the passion, the spice that is a mixture of congas, timbales, piano, trumpets, bongos and the clave! Get up, get ready and let the rhythm take you over!
Ruby Rivera's excellence with the salsa community and love for the arts has inspired the city of Houston to honor her with her very own official Salsa Appreciation Day.
Ruby Rivera is the founder and president of the Texas Salsa Congress, a yearly event that draws salsa dancers and fans from around the world. Her goal in establishing the Texas Salsa Congress and the Texas Salsa Congress Educational Foundation was to showcase the beautiful and intricate style of salsa dancing and raise scholarship funds for both dancers and participants. In its eight years of existence, the Texas Salsa Congress has raised thousands of dollars in scholarship and professional stipend awards.
Ruby Rivera has taught salsa at Scott Gertner's Sky Bar for nearly nine years and Houston's Downtown Aquarium Latin Beats for nearly seven years. She has instructed at events such as LULAC Scholarship Fundraiser and the National Hispanic Forum. In addition, Ruby Rivera also serves an adviser and mentor to many youth and salsa dancers in Houston.
Houston will observe Salsa Appreciation Day by celebrating with 3 days of dancing, music, and flavor leading to the actual day, Saturday, August 4, 2012. Salsa Appreciation kicks off with:
Thursday, August 2, 2012, free salsa class 9 PM at Scott Gertner's at Houston Pavilions, 1201 Fannin, 3rd Floor.
Friday, August 3, 2012 free salsa class at 7:30 PM at the Downtown Aquarium, 410 Bagby Street
Saturday, August 4, 2012 free salsa class at 2 PM VOX Culture 8570 Katy Frwy. Suite 116  *Saturday will be a Back to School supply drive for Houston students!
In addition to Houston celebrating this wonderful art of dance, other major cities in Texas will be offering free salsa classes open to the public to commemorate this day.
In support of the Texas Salsa Congress efforts to promote education, during the free salsa classes, we are asking for a donation of school supplies. All school supply donations will be greatly appreciated and accepted. The public is invited to be part of the audience of Salsa Appreciation Day! Come join the fun filled family event in your area. This will be a day to definitely not miss out on. Come and enjoy the music, the dancing, the culture and the bona fide love for salsa!
For more information please visit: www.txsalsacongress.com or email ruby@txsalsacongress.com or cynthia.txsalsacongress@yahoo.com.