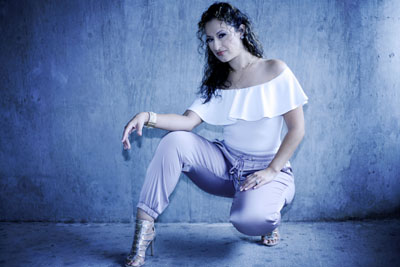 Blanca has mastered the art of merging several genres of dance to make her style on the dance floor unique, sexy and smooth. Her forte is combining her three favorite dances: Mambo, Cha-Cha-Cha, and Hip-Hop. Her specialty is teaching women how to release the beauty of their bodies on the dance floor with class and modern style through proper movement, foot placement, musicality and other dance techniques.
At a very young age, Blanca knew she was born to perform and direct! At the age of 7 (2nd grade), she was asked to teach a choreography to a group of 5th graders. Soon after, at the age of 9 she picked up baton twirling. This sport would be the base of all her technical training. She competed professionally and won many state and national titles during her 10 year career. In high school, not only did she perform and teach ballet folklorico, she also made the cheer squad and was responsible for teaching all the choreographies to her peers. After graduation, Blanca moved to Utah and began pursuing her career as a professional Latin Ballroom dancer. During her 3 years in school she stumbled on Latin social dancing and fell in love instantly. Salsa became her new found love. This was an art that was not yet seen or taught back in South Texas. In 1999, Blanca moved back to Corpus Christi, Texas and began introducing the dance of salsa to her hometown.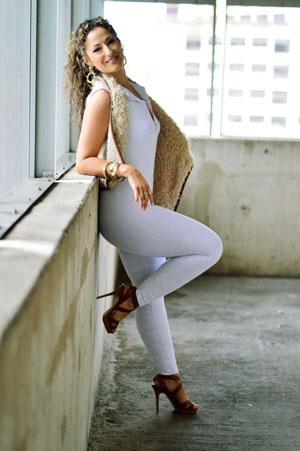 Blanca has been a performer and instructor in the salsa scene for over 17 years. In 2000, Blanca moved to San Antonio and joined Semeneya Dance Company where she performed and taught at salsa events throughout Texas and Louisiana. In 2003, Blanca started branched off and began Con Sabor Dance Company. She led her students to represent Texas in the Annual Chicago Salsa Congress in 2004. Later that year, Blanca established Con Sabor Dance Company: Ladies Edition – the first all ladies dance team in Texas. This powerfully feminine group of beautiful ladies led by Blanca was an instant hit, and proved to many audiences that you don't need a dance partner to dance your tail off to Latin music. Con Sabor Dance Company and the Ladies Edition were part of the pioneers for mambo dancing in SA and have performed throughout Texas, Miami, Chicago, New Orleans, Savannah – Georgia, Philadelphia, Atlanta, South Carolina, North Carolina, Orlando, Puerto Rico and on the Aventura Salsa Dance Cruise. Blanca has also trained, performed and traveled with dance companies in Chicago. She has trained with world renowned salseros to include – Alex De Silva (So You Think You Can Dance) and Jason Molina (Puerto Rico).
In 2007, Blanca began teaching and choreographing for Third Coast Dance Company in Corpus
Christi, Texas. TCD has performed her choreographies at the Houston Salsa Congress, Texas Salsa Congress, BIG Salsa Festival, as well as all Salsa Conventions across South Texas. She was their lead choreographer for 8 years and led them to gain recognition at the Texas Salsa Congress in 2014. During those 8 years she also began a Con Sabor ladies team in South Carolina where they debuted at the El Congresito de Greenville.
Blanca finally got back on stage at the Breaking Salsa event in Austin (Feb 2014) and had an
amazing comeback performance at the Texas Salsa Congress (March 2014) where she performed a Hip Hop/Salsa choreography, as well as a classic Mambo choreography. She spent 2014-2015 teaching and performing in Kansas City, helping the scene grow and develop.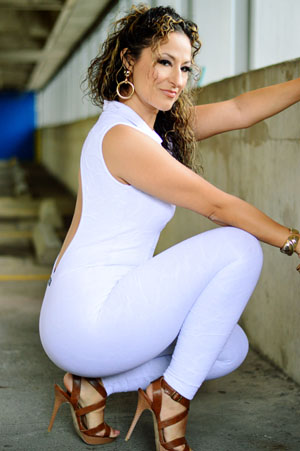 In 2015, Blanca developed a project that consisted of collaborating powerhouse, talented ladies from different cities to represent Con Sabor Ladies nationwide. They made their debut in August 2015 at the BIG Salsa Festival in San Antonio, TX and have already made a name for themselves in Texas, Kansas, St. Louis and South Carolina. There are now 9 different cities across the nation under the CSLE umbrella. Blanca currently resides in Killeen, Texas and self directs the Austin CSLE team. In 2016, she took on yet another project and created a team of only the best! The top female choreographers and directors in Texas, Texas Ladies Alliance, now collaborate and represent their home state TOGETHER as they show respect, love and admiration for their separate female groups and their passion for dance.
There are currently over 50 ladies throughout the nation that represent Con Sabor Ladies Edition and 9 top salseras that come together to collaborate to make Texas Ladies Alliance on stage at local as well as national events. Blanca thrives on unity, respect and love for this dance scene and looks forward to teaching more salseras who share her same passion and are eager to take their styling and dancing to the next level.
Breaking Salsa

TSC