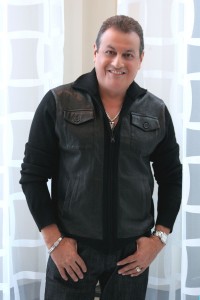 Miranda was born in Aguada, Puerto Rico. As a child he always wanted to be a musician. Miranda grew up in New York City on East 13th Street in Manhattan's East Village. His musical inclination led him to form two different juvenile groups, "The 4J's and Little Junior" and "The Class Mates" by the time he was eleven years old. He sang and played the conga for the group and they were good enough to appear on Jerry Lewis's Muscular Dystrophy Telethon. Miranda also grew up and played in his first bands with Jazz percussionist Orlando "Q" Rodriguez and piano player Mark Diamond.
In 1969, Miranda was only 19 years old when he joined the Fania All Stars and went with on tour to Europe, Asia, and Latin-America. In 1973 he formed his own band called "Revelacion" and recorded "Así se compone un son" under the Fania Record Label. With this song, Miranda entered the new salsa craze which was sweeping the nation. He was then baptized as "El Niño Bonito de la Salsa" (The Pretty Boy of Salsa). During the 1970s, he continued to have more "hits" with songs like "Lupe, Lupe", "Señor Sereno" and many others with the musical training he picked up from various bands and sextets, Ismael Miranda built the foundation of his future professional career.
It didn't take long for Larry Harlow to discover the young artist's talent and potential. He approached Ismael and offered to officially introduce him to the music world with the album "Orquesta Harlow Presenta a Ismael Miranda" ("The Harlow Orchestra Presents Ismael Miranda"). From then on, Ismael collaborated with the orchestra on successive recordings, making a name for himself as a composer. Many of the songs he wrote had a long-lasting impact, and became wildly successful with fans.
Later, he burst onto the scene with the album "Así se compone un son," which launched a new stage of his career. Now, he fronted his own band, and went on to break sales and popularity records, taking Latin America, Europe, and the United States by storm.
The Texas Salsa Congress is honored to have such a salsa legend with us March 2012! See you on the dance floor!